Top Money Management Apps To Help You Manage Your Money
Money management is one of the issues affecting many people and families around the world. Money management has never been easier, and must people be struggling with it.  These money management apps at our disposal are here to ease our basic money management issues.
Understanding your cash inflow and cash outflow is very important in managing your finances. Knowing how much is coming in and going out of your bank account is a good financial success ladder. With the help of these apps, you get to know the important aspects of financial success.
These money management apps can be used to manage your money, advance your career, and ultimately simplify your daily lifestyle. They make it easy to move your personal finances to another level and help to save you money.
Some of these apps will help you with money management, personal finance, and budgeting. They help with sticking to your budget, save you money, and help you to invest wisely without issue. The problem with this is that there are so many different apps on the market; it can be hard to know which one to use.
Also, some of the apps are free to download, while others have a monthly subscription. Each app on this list provides a set of unique features that will help you get a better look at your financial health.
Here are the best money management apps you should consider
You Need A Budget, commonly called YNAB, is one of the best budget apps you can get. It will help you to spend purposefully with what you earn. This apps helps made budgeting easy to understand, and it made me want to take a more active role in my finances. YNAB will help you break the paycheck to paycheck cycle, get you out of debt, and save you more money.
There is a monthly subscription of 6.99, but that amount is worth it as it helps and gives you the best. The average YNAB new user save $600 in the first two months, and it has a 34 day free trial that you can use to test the app. YNAB is one of the best money management apps around.
So, what makes YNAB the best budgeting and money management app? Check out the outstanding features of the app: 
Syncs with your bank account
Supports multiple devices.
It helps you pay off debt.
Offers email support and live workshops.
Secure your data and privacy
Let's you set and track your financial goals.
Gives you detailed reports about your spending.
Personal support and great customer support
Do you want to learn more about YNAB's money management system click here.
Mint: Best Free Budget App & Money Management App
Mint is another great money management app that you need to help you with your finances. It is best known as a free budgeting app around.  This app helps you to have a closer look at all your accounts in one place and check on your spending and saving habits. One of the bonuses about Mint compared to other budgeting app is that it is free and no hidden fees. You don't need a subscription to use the app!
Mint allows you to connect to your bank (Mint only supports banks and financial institutions in the US and Canada). By connecting to your bank, you're allowing Mint to view and gather data so that it can categorize your spending and help you see where all your money is going.
You can track almost everything with the Mint app: bills, debt, investments, credit score, and much more. There is a free guided tour to show you how it works after you sign up. The tour will help you to understand the app better, even if it looks a bit too much.
Mint is available in both iPhone and Android.
Personal Capital: Best Free Net Worth Tracker and spending
Personal Capital is one of the outstanding do it all money app for budget tracking and everyday money management.  that amongst other total assets tracker around and it assists with ordinary cash the board. It is known as the best personal wealth and net worth tracker around that helps with money management.
Personal Capital is a robust money management tool that can serve as a one-stop to all your finance management. It can help manage all your money, including investment, mortgage, checking, retirement, savings, brokerage, credit cards, student loans.
Personal Capital helps to add all your accounts onto one dashboard, displaying your whole net worth in one place. It also helps in tracking your spending, plan a budget, monitor your investments, and even save for retirement. Additionally, the app delivers an easy way to stay on top of your finances. Link all your external financial accounts (401ks, checking, mortgages, loans, credit cards, savings, and IRAs,) to get a comprehensive view of your money.
Check out the outstanding features of the app: 
Get a 360-degree view of your money.
Link your accounts
Talk to an advisor
Make a plan
Start investing
Set up and track your budget.
Keep an eye on your investments.
Plan for your retirement.
Also, it's completely free. Sign up here.
GoodBudget: Best Expense Tracker App
GoodBudget is the best answer for individuals who need to keep their budgeting straightforward and easily track their daily expenses. It is a personal finance app for budget planning and money management.
It uses the tried and tested cash envelope system to budget service to log and allocate your finances.
This system works because you take your income/pay for the month and separate it into envelopes for some (or all) of your expenses.
You will really love this app if you find yourself overspending on groceries; this is a good app for you. All you need to do is to use the cash envelop budgeting. Using cash should make it impossible for you to overspend when you go for groceries.
Check out the post on 5 Signs You Are Spending Too Much Money
There is, however, one problem with this system: you'd have to carry around cash all the time and use physical envelopes. That's a deal-breaker for a lot of people. It's envelope budgeting for the 21st century. You'll be able to follow the envelope budgeting system through the GoodBudget software without having to keep cash in physical envelopes.
It's available on Android, iPhone, and the Web. You can also share your budget with family members so everything stays synced up.
Related Article: 
Trim: Best Subscription Tracker
Trim is a free service that helps you save money by cutting unused subscriptions & earning cashback.
One of the features I love about Trim is that it can track your recurring subscriptions. When you signed up, you will find a couple of recurring subscriptions that you are no longer using anymore. You can then go ahead and canceled them and saved yourself some money.
Trim can do a lot more than just track subscriptions though, so I recommend learning more about it here.
Acorns: Round up Purchases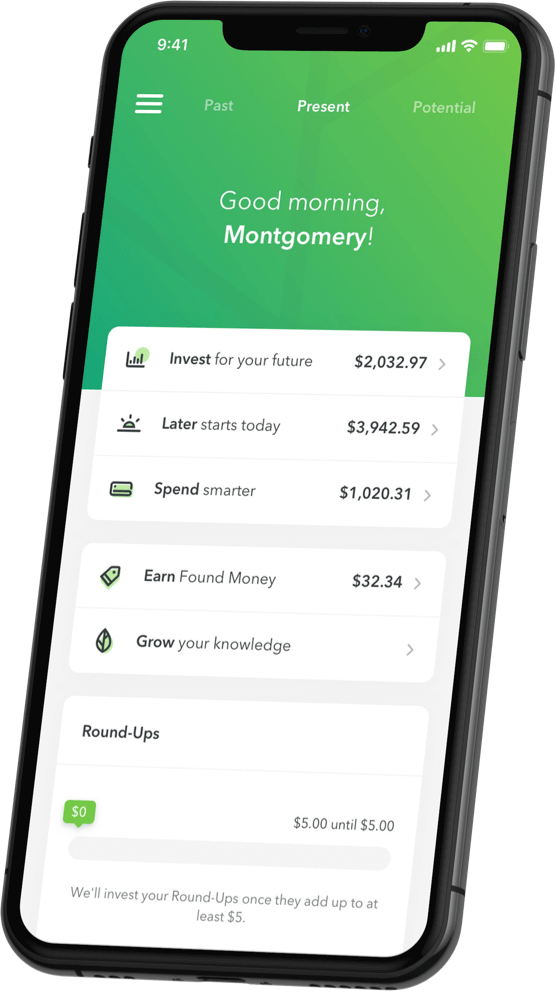 Acorn is an app that rounds up your purchases daily and invests the spare change automatically. It set aside money as you shop and invest it for the future. All you must do is link up your bank account and your credit/debit cards, and the app will start investing the spare change.
Here's how it works:
Let's say you go to Starbucks and get a fancy coffee for $5.38.
Acorns see this transaction, automatically rounds it up to the nearest dollar ($6 for this transaction), and invests the change (62 cents) for you.
This app works so well since it's hands-off, and you won't notice the cash leaving your account. Automatically, these little roundups add up to save you money.
Acorns turn your spare change into a portfolio of investments, so you can start investing in your future without even noticing. Many users set up their Acorns account, forget about it for a few months and end up having hundreds of dollars in their account.
You can also add money into your Acorns account manually if you want to save more money and not only use roundups. You have the option to set up recurring daily, weekly, or monthly investments, or you can do one-time investments of $5 – $50,000.
After you get some money into your account, Acorns will start building an investment portfolio for you based on your financial situation and goals. Your answers will affect the investment recommendations Acorns gives you.
The basic plan costs $1 per month until your portfolio hits $5,000, then it costs 0.25% of your balance. 
Wealthfront is an all-in-one solution that helps you earn more interest on your cash in an efficient way. With Wealthfront, you get advice on how to manage your savings and automate your investments.
Investment can be complex and intimidating, but with software like Wealthfront, everything is easy and interesting. My family uses Wealthfront for investing, and we are delighted with it. There are no fees for the cash account, and It only takes $1 to open, and there are no additional deposit requirements.
Wealthfront starts by getting to know your age, income level, and retirement goals. Then, it calculates the best risk-adjusted strategy for you and invests your money accordingly.
Wealthfront calculates the best risk strategy for you and invests your money accordingly. It also monitors your portfolio and periodically rebalances it in the most tax-efficient way. All you must do is sit back and relax! It takes just a couple of minutes to open an account straight from your phone.
Sign up for Wealthfront here to get your first $5,000 managed free.
Qapital: Best for Saving Money Automatically
Qapital is a free mobile app you can download free. After a 30-day trial, however, you'll pay a monthly membership fee based on your choice of three service tiers: Basic: $3/month. Complete: $6/month
It takes time and effort to save toward your goals, which is why Qapital is here to help you have fun saving and effortless. Just pick a goal that could be a vacation, student loan payment, house payment, etc., and customize how you want to accomplish it.
Qapital is an app for iOS and Android that automatically saves money for goals based on your set rules. Qapital can round up your everyday purchases to the nearest dollar. Another idea is to instruct Qapital to transfer cash every time you get paid.
Qapital can also move cash into savings every time you hit the gym by connecting to your fitness apps. The options are endless! The app is super intuitive and will help you hit your savings goal before you know it.
Mvelopes: Good for Budgeting
Mvelopes is a fully-featured online money management app based on the old "envelope budgeting" system. You divide your cash and put your cash in envelopes, mark the envelope as to what the cash is for and spend in that category until the cash is gone. Meanwhile, you always reset it and start on your next pay period.
Mvelopes translates your credit card and digital spending into a cash-style budgeting system that keeps track of where your money is going. You can create a budget, and the app will take care of the rest.
You always stick to any category you have assigned; for example, you cannot borrow money from a clothing envelop when your grocery envelope is depleted. Mvelopes now use digital envelopes; when your envelope is empty, the app will light it up in red. 
The Mvelopes money management app is available on Android and iPhone, and you can sync to all your bank and credit accounts. You can choose from three versions depending on your budgeting needs and expertise.
The basic plan starts at $6 per month and comes with a free trial, while the plus plan starts at $19 per month. Lastly, the complete plan starts at $59 per month and comes with a personal finance coach who helps you create a financial roadmap.
Conclusion
Technology makes it easier to understand your finances and improve your money management skills. Finding the right money management apps to match your style will be hard, but the above list will improve your financial situation.
There you have it, all the best money management apps you could find.  I hope this list helped you find an app that fulfills your needs.
Additionally, there are lots of ways to watch your spending, investments, and more. But since you probably have a cell phone in your pocket all the time, apps are a great option. These top money management apps will help you with saving and everything that involves money.
Learning how to manage money is easier than you think. With these apps, you can manage your money better.  They will help you make, save, budget and invest, and much more.
Do you have any money management app you are using right now? Do let us know in the comment section.